A comprehensive guide to vessel maintenance
Periodic maintenance is preferable than utilizing damaged equipment aboard a ship in the marine sector while planning and performing. Will we, however, have to rely only on the industry-wide system of planned or periodic maintenance? How to accomplish successful vessel performance monitoring by monitoring and forecasting equipment repairs utilizing contemporary and sophisticated technology.
Equipment and machinery, particularly those used at sea, are frequently vulnerable to breakdowns, faults, and needless maintenance. It takes a lot of effort to keep them in good condition, especially when they are broken.
Consider what it would look like if we sought to avoid unexpected breakdowns and, as a result, exaggerated repair costs by detecting equipment breakdowns early while the equipment is still operating well. The concern is whether the industry would use a relatively unknown approach known as "predictive maintenance" for all key equipment and machinery on board the ship while it is in operation.
Floating hoses are an important element of offshore transfer activities, and inability to sustain them can result in significant environmental and financial consequences.
Hose testing techniques include the following:
Visual examination
Internal and external examinations are performed to look for defects such as cuts, rips, abrasion, deformation, blistering, corrosion, and so on.
Test for hydrostatic pressure
Hose elongation measurements can also be compared to starting values.
Vacuum examination
Performed to identify the inevitable delamination of the rubber liner.
Electrical continuity examination
The company's  main line hoses are usually electrically constant due to their design (carcasses being electrically continuous flange to flange). So, in line with OCIMF standards, it is more beneficial to examine just the electrical discontinuity for tail hoses and tanker rail hoses (particular inner flange design).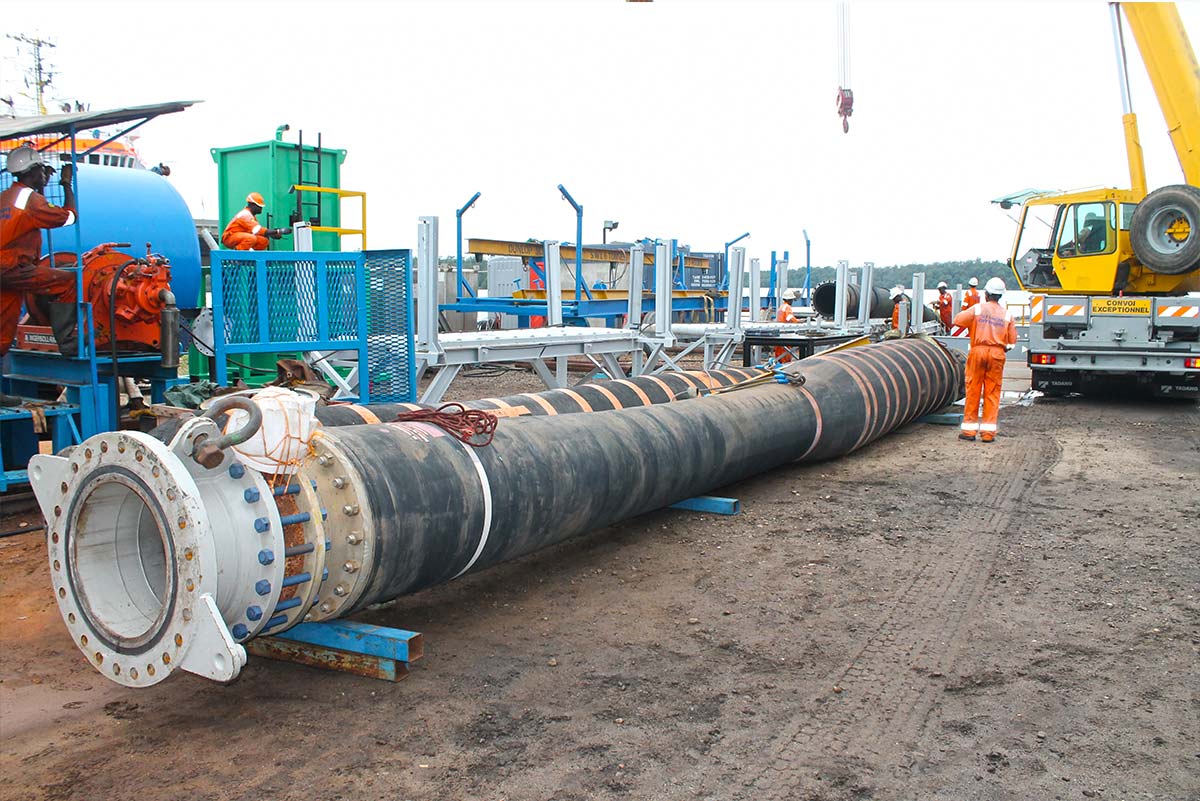 Maintenance forecasting is a proactive strategy to cope with unforeseen downtime caused by equipment breakdown, which eventually results in costly offshore downtime. The technique that is implemented is more of a  preventative maintenance system that is rigidly enforced on ships. The most important component of such a service is proactive analysis, which discovers and develops subsequent patterns in shipboard equipment or machinery conditions, warning us of approaching breakdown. This guarantees that the ship's crew understands the equipment's present and future capabilities.
In a nutshell, it is a strategy that assists us in determining or forecasting the next maintenance cycle for machinery or equipment in service. When compared to preventative or temporary maintenance approaches, it is also by far the most cost-effective. This approach identifies degradation or the start of deterioration in equipment connected with on-board operation, allowing less resourceful ship employees to handle any maintenance concerns in advance.
The ability to plan corrective maintenance before ships enter open sea, when repairs are more difficult and expensive, is the major advantage of preventative maintenance on ships.
 If you are seeking a floating hose inspection in Malaysia, please visit Altus Malaysia!